Time Frame: May 2020-May 2021
Pattern: McCall's 6696 as a base, modified using measurements from my old slip, and drafting advice from a book.
Fabric: Lightweight silk charmeuse from Fashion Fabrics Club. — yards for $– (I'll add when I find the receipt!)
Notions: Thread (several different beige colors) from stash to use up odds and ends.
Size: 12, but modified.
Alterations
The main differences between my old slip and the 6696 pattern are the hem width, the overall length, and the shape of the back piece.
The hem width on my slip is 5″ wider than the 6696 pattern and has short vents in the side seams, but I did not end up doing any alterations in the width of the hem or adding the side vents and this has been fine.
The length of the main body pieces of the 6696 pattern is 3″ longer in the front than my slip. I trimmed the pattern accordingly, but found that once made up as a toile, this felt too short. So I added 1 1/2″ back on and that was the perfect length with a narrow hem.
My old slip's back piece is cut straight across the upper edge, whereas the 6696 piece has an extension. You can see this in the line diagram below for view E, but it is actually much more pronounced on the pattern piece. I wanted to be able to wear this slip with a lot of different styles of dresses, so I just cut off the extension on the pattern.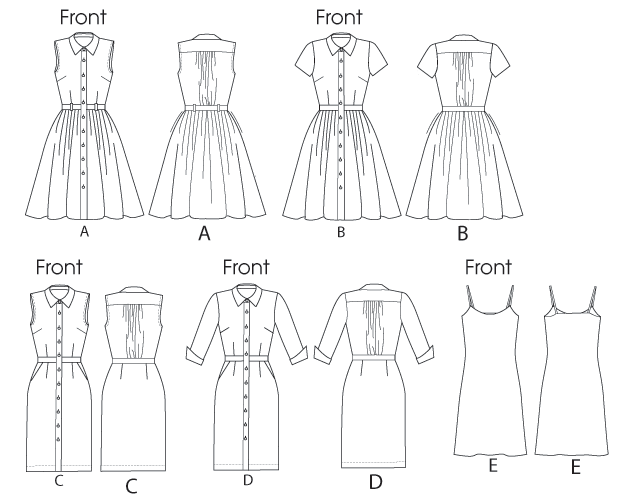 I took in the side seams ~3/4″ when I did my muslin and despite how much this improved the fit, I decided not to do this in my final version. I tend to overfit, so this wasn't an unjustified concern. Unfortunately I guessed wrong. It isn't enough of an issue to go back and change it on this version, but I will put it in future versions. You can see where it sticks out in the photos.
My bust is fairly large relative to my upper ribcage (my bras are 34DD), so I was still having trouble getting a good fit. This wasn't something I was going to wear on its own, so it didn't need to fit much tighter, like a slip dress, but I wanted to see if I could improve it a little. I consulted several of my books and one suggested that French darts are the way to go to fix this, so I drafted them in.
Construction Instructions and Notes
For construction, I didn't follow the pattern instructions. Instead I did some reverse engineering from how my old slip was made, and combined this with advice I gathered from my vintage sewing books about sewing slips, which I synthesized into a "Guide to Sewing Slips", which I shared on my professional blog. I'll try to outline what I did below:
Sew the French darts: Since my darts were extremely slim and long, I opted to sew mine by hand with a backstitch. One is a little more wibbly than the other, but I think they still came out better than if I had tried to do them by machine.
Sew the side seams: I elected to do French seams (you can find instructions for this in any sewing book) as a finish. My old slip had some sort of a flat felled seam which I hadn't been able to figure out.
Make bias tape: I made 1/4″ double fold bias tape to bind the top edges and for the straps. I have an older version of these tools for making bias tape. They're not useful for thick or stiff fabrics but they're amazing with silk charmeuse!
Apply bias tape: I applied a strip of the bias tape across the upper chest, between where the front ends of the two straps would get attached. To do this I machine-sewed one side, folded it over and hand sewed the other side. Next, I applied the binding around the rest of the top, and where it met the other binding it would also be continuous into the straps.
Straps: I elected to just machine stitch the bias tape layers together where it became the straps. Once the straps were made this way, I tried on the slip and safety pinned the straps to the back at the right length. I then cut off the excess, leaving 3″. This was sewn down to the inside of the slip using a zigzag stitch. The 3″ extension was suggested by my vintage sewing books.
Hemming: The hemming was the hardest part. I should have done it by hand, but I tried to do it using my narrow hem foot. Unfortunately, at certain points it would stretch out and only fold once through the foot, leaving a raw edge, and it can't be used near the seams. In the end I did a lot of hand sewing to fix these areas (see 2 photos down.)
General Notes
I love, love, love silk charmeuse. There is nothing like it. I was hesitant to use it because the charmeuse I had previously bought from FFC was a bit heavier, and I was mostly planning to use this with summer dresses. This one ended up being thinner, but that is perfect for a summer slip.
The downside to the thinner fabric is that I noticed it showed removed stitch marks more than my other charmeuse, and on one of the darts it looks like there may be future seam slippage issues if it gets any strain.
I made two muslins before I was confident in the fit, and even then it took me a year to feel ready to cut into my charmeuse – I'm a slow sewer for sure. But the result was a really good pattern that I can continue to use, and I can even use it for camisoles by shortening it.