It is a new year and that means it is time for a new Vintage Pledge list – I hope – that is, there has been no official announcement yet. Most of my pattern choices are repeats from other years that I just haven't gotten to, but there are a few new ones in the mix. It was really hard to pare down from the stack I originally pulled out. I'm still busy with a new house and a new teaching job, so I went with patterns that matched fabrics I already had and would be guaranteed to be worn. I'm taking a trip to Florida in the spring, I think it is clear that was an influence on my choices as well!
The 1940s
-5 projects-
My hope with DuBarry 5610 and Hollywood 1580 is to make a mix n' match set. From the tropical print rayon I want to make the halter dress and if there is any left over, a top as well. The yellow linen-rayon mix from Paron's will be for the Hollywood bolero and the skirt from the DuBarry suit. You can't see it in the photo but that same yellow shows up in the print fabric.
DuBarry 5758 has been on my list since 2015. I even have the fabric and shoes ready to wear with it.
Vintage baseball popped in my head when I purchased a hot pink pinstripe cotton from Mood Fabrics. The pink matches my hot coral Keds perfectly. Paired with Marian Martin 9237 I think it could read as a tribute to A League of Their Own uniforms, especially with a monogram or patch. On the other hand, Simplicity 2013 as a play set would also be a good match. Which do you like better?
Since my Carolyn Pajamas were such a disappointment I no longer plan to use them for summer PJs and pulled out this cute crop top and short set, Simplicity 1230, again.
The 1950s
-3 projects-
I have enough of the polka dot fabric to make both Simplicity 1426 (view A) and 3250 so that's my plan – wearable muslins since the fabric is not anything dear. I am curious to see which style will work best. Now that I've started 3250, however, I am tempted to make the matching shorts from the leftovers instead! With a bikini bottom sewn in it could even be a swim suit.
Advance 7729, started last year, needs to be adjusted to be bigger at the waist so I can actually wear it. I also have plenty left over to make a matching bolero or jacket if I like.
The 1960s
-2 projects-
While I have no current plans to sew the bikini or pants, I've slated the cute tunic/cover-up from Simplicity 8153 as a project to make for Florida. I'm not sure what fabric to use, though and nothing in my stash felt right. What fabric would you use?
Now that I've got a TNT full-skirted shirt-dress pattern (McCall's 6696) I can finally make this wacky vest/overdress. Those pockets look just perfect for holding a good book (perhaps a Nancy Drew?) Again, what fabric would you use?
The 1970s
-3 projects-
Simplicity 7517 is right up my alley! The "Folkwear" styling, ease of fitting, opportunity to use fun prints and, of course, pockets. The best part is the original owner left some fabric in my copy. They are the print accent pieces in a cute vintage calico and I hope to use them myself.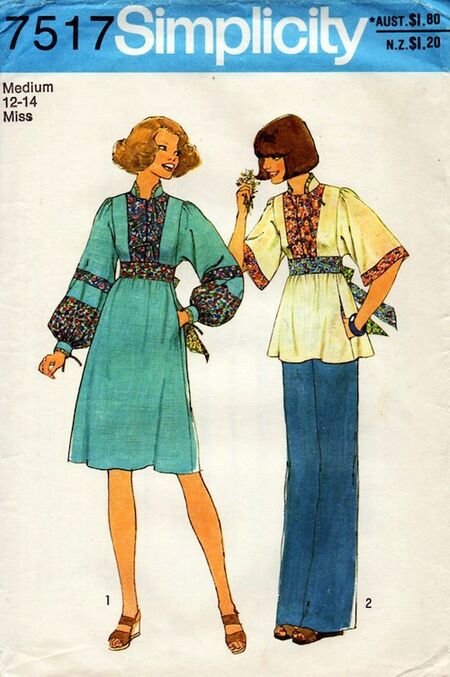 I picked up this crinkly gauze over the summer at a yard sale because it clearly needed to be made into view 1 of Simplicity 7446 – sometimes I am too much influenced by the pattern illustration. I am tempted to make it short sleeved as I don't really wear cuffs on long sleeves, and definitely not on a summer shirt.
Simplicity 8788 still needs to have the collar re-attached properly, the zipper then put back in and get hemmed.
I'm glad I've chosen from several decades to keep things interesting.
What are you sewing for Vintage Pledge this year? Do you stick to one decade?